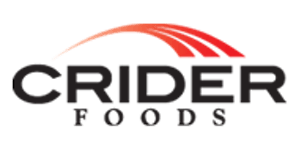 Crider Foods partners with CHAMPS Analytics to get real-time analytics and reports
Crider Foods is a Marketer and Processor of shelf stable and fully cooked products for customers around the globe. For over 78 years, they have diligently expanded to meet the needs of its customers. They believe in providing the industry's highest level of quality, service, and corporate integrity for their retail, foodservice, school, and institutions and their goal is to keep their customers as industry leaders.
Crider Foods was struggling to get real-time analytics and reports. As a result, they were very limited in what they could show, and there were inconsistencies and errors in their data. They needed to be able to trust their data as they see it.
Crider foods partnered with CHAMPS Analytics and deployed Qlik, allowing them to have real-time data all in one place so they can address problems immediately. Thanks to having all of their data in one place, they are able to spend more time using the data to make better decisions than they do putting the data together, which was a huge shift for them. Now Crider Foods uses Qlik to analyze their data across the entire organization.
CHAMPS Analytics has helped Crider Foods to increase their data integrity for better analysis and decision making. Their goal of becoming a data drive organization is now happening organically. As a result, their data immediately identifies any problem areas and allows them to solve them quickly, they are no longer doing any manual reporting, allowing factory floor utilization to increase, and the organization is now data-driven leading to efficiency gains and significant cost savings. 
Testimonial
"Qlik really is affecting every level of our company. It is changing our culture. Previously, there was at least a week delay in consuming the data generated from production. There were tons of inconsistencies and errors, and it was too late to really figure out why. Now, with live info, we can immediately address problems. Now we can finally trust our data as we see it."
— Joshua Poole
Director of Purchasing and ERP at Crider Foods
Results & Client Value
Crider Foods gained the following:
Data integrity provides accurate views for better analysis and decision making
Live data immediately identifies any problem areas which can be solved quickly
Manual report generation has been eliminated allowing factory floor utilization to increase
Organization is now data- driven leading to efficiency gains and significant cost savings